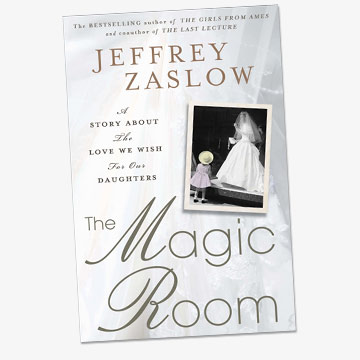 If you're lucky enough to be on winter break right now, I've got a new book for you to read while you lounge on the couch. The rest of us who are stuck back in the office all day can read it after work, which let's be honest, is much less appealing.
Nonetheless, if you like weddings and/or parent-daughter relationships, you will like this month's BlogHer Book Club selection, The Magic Room: A Story About the Love We Wish For Our Daughters, by Jeffery Zaslow. The Magic Room follows the story of Becker's Bridal, a Michigan bridal shop that was started in the 1930s and has stayed in the same family, handed down through three generations, to it's current owner/manager. The history and family drama of Becker's Bridal is interwoven with the stories of 8 brides, their dress selections and the complicated pasts.
What I loved about the book was the descriptions of the fanfare and emotions that go into something so seemingly simple as choosing a wedding dress. As someone who went through the process not too long ago, I remember clearly the special moments my mother and I shared while walking around the bridal store. I remember the relief and excitement of finding 'the dress.'
Zaslow throws in some findings about marriage and familial relationships that can seem kind of out of place now and then, but most of the research is interesting at least. I really enjoyed the descriptions of how the changes in bridal fashion over the last 70 years has reflected changes in society as a whole. Brides during World War II were given maybe a handful of affordable choices and usually their mothers made the decision for them without protest. The modern bride, however, prefers to choose from thousands of dresses in much higher price ranges. Brides today often give little value to their parent's opinions and almost enjoy 'acting out' or playing 'Bridezilla.'
Some of the stories were heartbreaking and, while it could be hard to keep up with all of the characters at times, overall I was drawn in to each of  the story lines. I would definitely recommend The Magic Room to any recent or future brides or anyone else interested in non-fiction about families and relationships.
*Disclosure: This was a paid review for BlogHer Book Club but the opinions expressed are my own.