If you follow me on Facebook, Twitter or Instagram, you may have noticed that I posted some pretty picturesque photos last week. Jacob and I were in Switzerland visiting our dear friends and you better believe that as soon as I sort/edit the 1000+ photos I took, I'll share them here.
In the meantime, let's talk about my most recent furniture purchase and makeover.
I had been searching for a china cabinet for the past year or so. After we got a new (to us) kitchen table last fall, it became clear that I didn't have room for a traditional hutch in my small eat-in kitchen.
So the hunt for the perfect corner china cabinet began.
Long story short, corner china cabinets that cost less than an arm and a leg are few and far between. Finally, in March I found one on Craigslist that met my strict requirements: cabinets on bottom, not very big but big enough, solid wood, shelves on top, less than $150.
The next day we drove the forty five minutes to meet her (the cabinet, that is) and I was smitten. She's about 60 years old and handmade. The first thing I noticed was that there is no back/sides to the china cabinet, just a piece of wood in the back that anchors the shelves. Kind of strange, but now it's grown on me. And it sure was nice to not have to paint three full sides of a cabinet by a reputable kitchen cabinet manufacturer.
Needless to say, after some of the usual Craigslist bartering and some creative maneuvering to fit the damn thing in the back of our truck, we bought it and the elusive corner china cabinet was mine!
Pretty, no? AND the bottom shelf is just tall enough to fit a bottle of the mister's go-to whiskey. Added bonus!
Even though the wood was in great shape, I had my heart set on a brightly painted coral cabinet. I decided on Starburst Orange by Benjamin Moore.
I picked up a quart of paint and got to work taping the gazillion window panes. I also washed all the wood surfaces and lightly sanded the whole piece.
I painted the cabinet in thin layers over several nights. I used a brush for the first coat and a small roller for the shelves and cabinet doors on the second coat.
After those first two coats, the cabinet was ….bright.
My sweet husband is a saint who never questions my random decorating or painting projects, so his nonchalant response was, "oh, is it going to be that color?" which probably means, "wow, that is a very bright, feminine and distracting color."
Never fear, Jacob dear.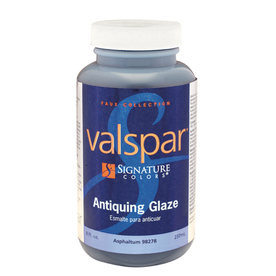 I added a layer of Valspar Antiquing Glaze to the whole thing and the color went from neon Malibu Barbie to a muted orangey/pink.
The finished product:
Please ignore the fact that the lighting in this particular corner of the kitchen makes it impossible to photograph properly.
Detail of the glazing.
And, of course I had to get fun new knobs.
I love it. It's definitely brightened up our kitchen, and I've finally been able to display some of our fun wedding dishes.
 What do you guys think?