Run this Bitch
Don't Suck!
Stop reading. Keep running.
This parade sucks.
Run Forrest Run
———————-
Just a few of the signs that kept me entertained during the Route 66 Half Marathon yesterday.
This one, however, was by far the best.
Apparently I have black hair and Alex's is bright red.
I am really struggling to find a way to accurately describe the emotional experience of running a race with thousands of people. There is something to be said (by someone far more eloquent than me) about participating in an event with thousands of other people who are all passionate about the exact same thing as you are. It's really easy to get choked up with emotion, especially when you see the faces of so many others completing their dreams.
—————————————-
The weekend started as many others have in the last few months. We spent Friday night in Fort Smith with Alex and Josh. Saturday morning we packed up the car and made the two hour trip to Tulsa. We went straight to the race expo, picked up our packets, and bought some GU for the race. Alex and I each bought SPIbelts while the boys made their sign. I've been wanting a SPIbelt for awhile, and I LOVED having it during this race. I carried my giant phone, a packet of gu, and a packet of sport beans and still had room for more things.
After the expo we checked into our hotel, dropped off our luggage, and made our way to the IMAX to see Harry Potter. The Deathly Hallows Part 1 was amazing and it really helped that I had just re-read the seventh book last week. When the movie was over, we spent two hours trying to find a place to eat and eventually settled on ordering pizza to the hotel room. While we waited for our dinner to arrive, Alex and I laid out our racing gear.
Have you ever wondered what runners need besides good shoes?
While I'm by no means a seasoned runner, this is pretty standard gear. I saw a quote the other day that said, "whoever said running was free has never ran a marathon." :)
By the time the pizza was delivered, it was after 10 p.m. I scarfed down two pieces and immediately went to bed.I barely slept and was already awake when the wake-up call rang at 5:15. I tried to eat my standard bagel with peanut butter, but couldn't even choke down half of it.
Needless to say, my stomach was not happy and I was extremely nervous as we finally made our way to the race site.
We said goodbye to the boys and made our way to the corrals. We couldn't find our corral, but did find the 2:30 half marathon pace group and decided to stick with them. I had no idea how long Alex was going to last. She hadn't ran in 4 weeks, and the longest run she had finished was 9 miles. Before I knew it, they were singing the national anthem and the first runners were off. We didn't start until almost 15 minutes after the gun, but I had my new birthday present on my wrist so I knew our actual time and pace. It was warmer than I expected and VERY windy. I threw away my gloves and took off my ear warmer and long sleeved shirt soon after the start.
The first few miles flew by. We ran through some of Tulsa's beautiful old neighborhoods. I kept asking Alex how she was feeling and she said she wanted to at least run until we saw the guys at mile 5.
When we saw the guys we stopped for a minute so we could hand them our discarded shirts. Alex said she felt great so we stayed together and ran another two miles or so before we saw our cheerleaders again.
I was blowing Jacob a kiss :)
The last 6 miles definitely went by more slowly than the first seven. We crossed a bridge over a river and the wind got ridiculous. From mile 8 on we stopped every ten minutes or so to walk so Alex could eat a GU chomp and take a short walking break. I honestly kept expecting her to tell me  she had to stop running altogether and for me to go on ahead like we had discussed, but amazingly, it never happened.
The first eleven miles felt great. Unlike my first half marathon, I was prepared for this distance, mentally and physically. I kept smiling to myself and thinking that I couldn't believe I was about to finish my second half marathon in less than a year. Especially after how disastrous my first one had been. A year ago, I would have never thought I could run 4 miles and now I was running 13 for the second time! We passed a man around mile 10 who had collapsed and was surrounded by EMTs performing CPR on his chest.  It was sobering despite our efforts not to look and took away a little of the adrenaline rush I had been feeling. We found out later that the man was only 27 and had collapsed and died on the half marathon course.
Forcing myself not to think about the poor fallen run, I figured out from the splits on my Garmin that if Alex was able to keep running we would finish in under two and a half hours. I made that our new goal and encouraged and pushed her as much as I could. I absolutely couldn't believe that she was still running with her injury and knew she was in more pain than she was admitting to me.  I turned to her at one point and said, "I think I'm more excited for you than I am for myself! You're going to finish this half marathon. That's so amazing!"
The last two miles were an out and back that felt like they lasted forever. Runners were passing us on the other side of the street and I couldn't see where the turnaround was. We ran for what seemed like an hour before we turned around and started the final stretch to the finish line. I don't remember much of mile 12 except that every muscle in my body ached. My longest run had been 10 miles, and my legs knew it.
All of a sudden we turned a corner and saw the finish line. Out of nowhere I felt myself start to sprint and a huge grin spread across my face. As soon as I crossed, I turned around and saw Alex finish. Overcome with emotion (and pain, I'm sure) she immediately started crying and I felt tears in my eyes. I gave her a huge hug and practically carried her to the people who were handing out medals.
We don't have our official time yet, but this is what my Garmin said. A PR for both of us and seven minutes faster than my first half!
Pretty good for a girl with an injured IT band and another  who claimed after her first half marathon that she never wanted to run again.
I was on top of the world. Not only had I ran 13.1 (my Garmin said 13.24 because when you count weaving around people and curves, most runners run further than the actual race distance) miles, but I fully enjoyed every one of them-except maybe mile 11 ;)
To be honest, I know I could have ran faster. There's no doubt in my mind that one day I'll complete a sub 2:15 half marathon. What I don't know is how many times I will get the opportunity to be a cheerleader, coach and training partner to someone who, physically, shouldn't be crossing the finish line and watch them complete a goal that most people only dream about.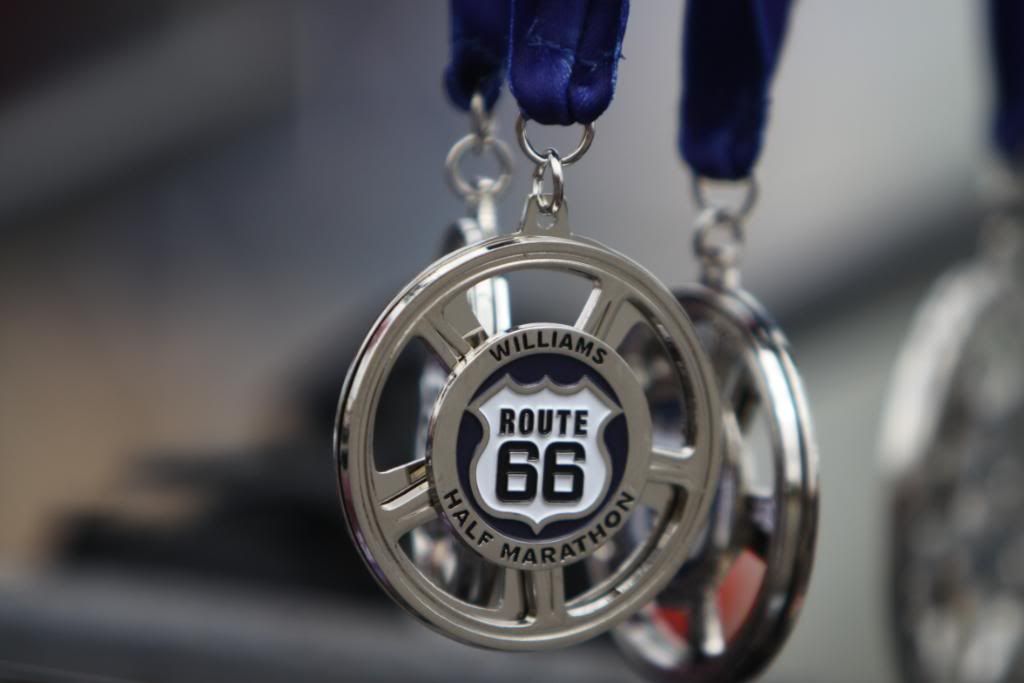 (image via here)
Oh yeah, and it spins. How cool is that?
After we got our medals and an official photo, we headed straight for the recovery tent to grab some food and something to drink.
We crashed in the field with our wonderful cheerleader husbands and consumed some much needed calories.
Then we cashed in our free finisher's beers and waited in line for over an hour for one of these.
Totally worth it.
Click here to read a recap of the race from Alex's perspective
I'm not sure if it was the massage, the fact that I was in bed by 8 p.m. last night, or that I was better prepared for this race than my first, but I felt great today.
I'm hardly sore at all and am already looking forward to my next run.