Uh oh. It's that time again y'all. Well, technically it was that time last week, but I was sick so you're just getting to see my project for the first time today.
*drumroll please*
It's the Pinterest Challenge: Winter Edition.
The only rule is to do your own personal take on something inspirational that you've pinned (and link back to the original creator of the project that inspired you, be it a company like Anthropologie or a personal blog that got your wheels a turning). The project can be anything: big or small, decor or sewing or cooking related – or beyond! The first time around I made a painted wooden letter canvas, and last time I made an embroidered baby gift.
This time, I decided to do a mini-makeover on my entryway. Stenciled walls are ever popular on Pinterest, so I picked a pin that featured a shape and tutorial I liked and got to work.
Here's the Before & After!
Sorry for the crappy iphone 'Before' pic.
On to the tutorial!
I used the moroccan stencil that Sarah linked to in the post I had pinned, and printed it out on copy paper. Then I taped the shape together and cut it out of some spare cardboard.
Next, I traced the cardboard stencil on with a pencil.
I used a small flat paintbrush to freehand over the lines that I had penciled on the wall.
No fancy technique here, just tried to keep my lines even and not get too much paint on the brush.
It took two (three in some spots) light coats to cover the pencil lines completely. Several hours and episodes of Nashville (yep, not ashamed) later, I had this:
I seriously love it.
I do have plans for a bigger, more colorful painting on the wall, but for now I just put the old one back up.
The best part is it cost less than $3 for the paint (and you could very easily use free paint leftover from another project).
Our wall color is Toasted Almond by Olympic. I wanted something subtle, so I chose a very light cream called Mystique by Valspar. Have you seen these 8 oz. samples? For 2.98 you get a pretty good sized container of paint. I didn't even use a quarter of the jar for this project.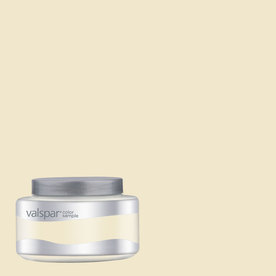 The second half of the entryway mini-makeover  was inspired by this pin  featuring creative coat closet door storage.
Unfortunately, we don't have an Ikea close by (probably pretty fortunate for my wallet, however). The shortest curtain rods I could find were 30-something inches and my door was only 21 inches wide. Enter the $2 Walmart Curtain Rod.
However, I wasn't feeling the white rods on my cream door.
Enter my BFF Rustoleum hammered metal spray paint.

I also picked up a set of clip curtain rings.
After the curtain rods dried for 24 hours I drilled a few holes, popped the rods and clips on, and admired my handiwork.
Easy peezy lemon squeezy.
Cute, right? We were constantly losing hats and gloves and now they're all gathered in one place.
I'm also keeping my most frequently used scarves on the lower rack.
Both projects were pretty easy and definitely budget-friendly. As I mentioned, the stenciled wall cost a grand total of $2.98. The curtain rods were $2 each, and the clip rings are $7 a set ( I had one set already). The spray paint cost $6, for a grand total of $20! Not too shabby.
Have you finished any Pinterest-inspired projects lately?